For the 2016 Colorado 14er Event, I chose really easy SOTA summits to activate because I had fractured my ankle earlier in the summer. At this point, I was able to hobble around with a protective boot but walking more than a few hundred feet was difficult. On Saturday, our radio crew (Bob K0NR, Joyce K0JJW, Denny KB9DPF and Kathy KB9GVC) drove up Pikes Peak and took a short stroll away from the vehicle to operate. On Sunday, we decided to activate Monarch Ridge South (W0C/SP-058), using the sight-seeing tram that goes to the top.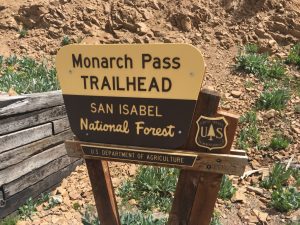 Access is right off Monarch Pass (Hwy 50), where there is a large parking lot. There is a trail that goes to the top and we'll be back to hike that some other time. (Actually, Joyce K0JJW and I already tried to snowshoe to the top in blizzard conditions but that is another story for another day.) The trail is a popular mountain bike route, part of the Continental Divide Trail (CTD). Monarch Pass is oriented north/south and the trail heads off to the east (behind the tram building). At some point, you need to turn left off the main trail to ascend the summit.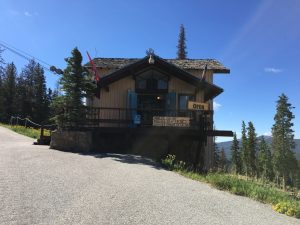 But we opted for the tram, boarding it inside this building near the parking lot. We purchased tickets in the nearby gift shop, which is worth a look if you need a map, book, ice cream cone or trinkets. See their website for latest schedule and pricing.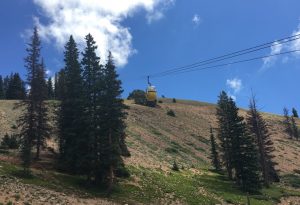 Here's a photo of the tram going up the side of the mountain. Of course, the views are great and the ride takes about 10 minutes. The tram car holds four people and a reasonable amount of SOTA gear.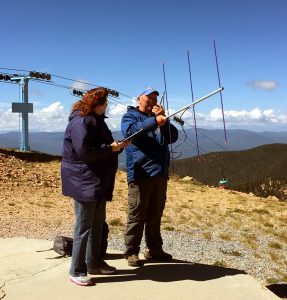 At the top, Denny KB9DPF made contacts on 2m FM, aided by expert logger Kathy KB9GVC. The actual summit is about a tenth of a mile to the south but we operated from a concrete pad on the north side. The ridge is flat and we judged the activation area to be very large.
We made a total of 13 contacts on 2m and 70cm, including 5 other SOTA summits (S2S).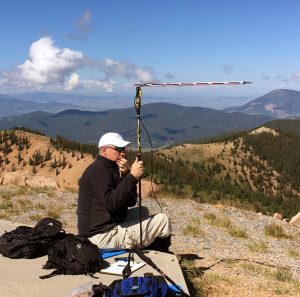 I used my Yaesu FT-817 to call on 432.100 MHz SSB, hoping to find someone in the UHF contest that was happening concurrently with the 14er event. I didn't work anyone on 70cm SSB but I did work K3ILC in Colorado Springs on FM at a distance of ~90 miles. Not too bad. The Arrow antenna is attached to my hiking stick via the camera mount thread.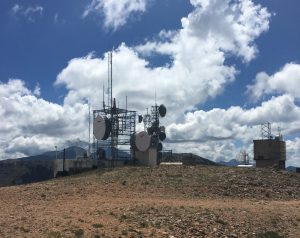 There is a substantial radio site on Monarch Ridge that did provide some RF interference to us on 2 meters. The 70 cm band seemed to be unaffected but I can't be sure. The "bad boy" transmitter is the KMYP automated weather station (AWOS) transmitting continuously on 124.175 MHz. Well, at least we could receive current weather information. We did relocate to put some distance between us and the transmitters but my lack of mobility kept us from going very far.
If you are looking for an easy access SOTA summit near Monarch Pass with excellent views, this is it. The hike up should not be very difficult but the tram makes it even easier. If you plan to operate 2 meters, expect some interference. Next time, I'll try locating even further away from the transmitter site. I might even bring along some bandpass filters. Other SOTA enthusiasts have reported no problems on the HF bands.
At the time of this post, there are plans to put a 2m amateur repeater at this site on 145.325 MHz.
73, Bob K0NR