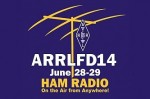 "Based on Actual Events"
At the local radio club meeting, I encouraged everyone to get on the air during Field Day, which led to this conversation:
New Tech: I just have a 2 meter fm radio. Can I still make Field Day contacts?
Me: Sure, VHF contacts are encouraged during Field Day.
New Tech: So I just call on 146.52 MHz and see who's out there?
Me: Well, no, the 2m fm calling frequency is not allowed for Field Day.
New Tech: Really? We can't use any of the calling frequencies we learned during our license class?
Me: Well, no, all of the other standard calling frequencies are fine, just 146.52 MHz is prohibited.
New Tech: That seems really dumb.
Me: No comment.
Complete Field Day information is here : http://www.arrl.org/field-day
73, Bob K0NR
Oct 25, 2015 Update: The ARRL changed the rules to address this issue. See Use of 146.52 MHz FM Simplex Frequency Cleared for ARRL Contests