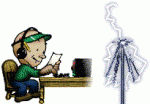 First, I need to admit that I am an HF slacker. My first love in ham radio has always been VHF and higher and I have always treated HF as something secondary. I am not sure why but if I figure it out, I will let you know.
Lately, my HF antenna (a powerful device that I refer to as The Dipole) has been laying on the ground. It seems the support rope broke months ago and I never found a reason to put the antenna back up. Like I said, I am an HF slacker.
Here's my idea of having fun on HF: fire up my Yaesu FT-847, belching a mighty 100 Watts into some kind of simple antenna. Get on 20 Meters SSB and higher and work DX stations all over the world. Actually, I don't like 20 Meters that much because it always seems to be filled with signals. I really, really like it when 15 Meters opens up because the band is big enough to allow lots of signals without that bloated feeling.
This is exactly what happened last weekend for the CQ WPX Contest. I was only able to operate about 4 hours, with the goal of having fun and working some DX. The propagation on 20 Meters and higher was excellent! It's amazing what a few sunspots can do for propagation. The contest format is pretty cool, too, as everyone works everyone but with an emphasis on picking up callsign prefixes and countries. I made 100 QSOs, mostly on 15 Meters, with all continents and many different countries. That was a blast.
After I loaded my log into Logbook of the World, I got the instant gratification of seeing 27 of those QSOs confirmed this week. Not a bad percentage…with the emphasis on confirmed this week. I am really liking this.
The HF bands are back!
73, Bob K0NR