Archive for April, 2011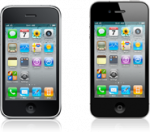 It was time to upgrade my Verizon Wireless phone, so I decided to move to a smartphone. After pondering whether to go with Android or Apple, I finally settled on the iPhone 4. I still miss the The Real Keyboard on my old LG EnV3, as it is nearly impossible to type on a shrunken touchscreen. But then there's those apps…
I have been trying out some of the ham radio related applications on the iPhone, so I thought I'd report out what I have found.
Here are a few utilities that I found. These apps doing something relatively simple:
CallBook (Author: Dog Park Software, Cost: $1.99) Simple ham radio callbook lookup that accesses the WM7D database (or QRZ and Ham Call databases if you are a subscriber).

Maidenhead Converter (Author: Donald Hays, Cost: Free) Handy app that displays your grid locator, uses maps and does lat/lon to grid locator conversions.

Q Codes Reference (Author: fiddlemeragged, Cost: Free) This app displays the definition of the common Q Signals (QRZ, QSL, QTH, …)

UTC Time (Author: Michael Wells, Cost: Free) A simple app that displays UTC time and local time.

Sunspot (Author: Jeff Smith, Cost: Free) A simple app that displays solar data from WWV.

Ham I Am (Author: Storke Brothers, Cost: Free) A handy app that covers some basic amateur radio reference material (Phonetic alphabet, Q Signals, Ham Jargon, Morse Code, RST System, etc.) Although I find the name to be silly, I like the app!
There are a few repeater directory apps out there:
QSL.FM Mobile (Author: Robert Abraham, Cost: $2.99) Geolocation repeater directory and call sign lookup.

iHAM Repeater Database (Author: Garry Gerossie, Cost: $4.99) Geolocation repeater directory. This seems to work a lot better than the QSL.FM app.
If you are an EchoLink user, then you'll want this app:
EchoLink (Author: Synergenics, Cost: Free) The EchoLink app for the iPhone.
There are quite a few APRS apps out there. I have tried these:
iBCNU (Author: Luceon, Cost: $1.99) The first APRS app I was able to get running. It just turned on and worked. It integrates the aprs.fi mapping into the app, so it is easy to use. I recommend this one for most casual APRS users.

OpenAPRS (Author: Gregory Carter, Cost: $3.99) This APRS app integrates into the openaprs.net server. A bit more complicated to set up but looks to be more flexible, too. You might want to check out openaprs.net before buying this app.

PocketPacket (Author: Koomasi, Cost: $4.99) another APRS app. Seems to work fine but I find the previous 2 apps more useful. Note: This app can function as a packet modem connected to a transceiver (no internet required).

Ham Tracker (Author: Kram, Cost: $2.99) APRS app, works OK, uses external maps such as Google and aprs.fi. "Share" feature allows you to send an SMS or email with your location information.
Satellite tracking is another useful app for a smartphone:
ISS Lite (Author: Craig Vosburgh, Cost: Free) A free satellite tracking app for just the International Space Station
ProSat Satellite Tracker (Author: Craig Vosburgh, Cost: $9.99) This app is by the same author as ISS Lite, but is the full-featured "pro" version. Although it is a pricey compared to other apps, I recommend it.
Well, that's what I have found so far. Any other suggestions?
- 73, Bob K0NR
This is an older posting, see my updated list here:
http://www.k0nr.com/wordpress/2013/05/the-updated-incomplete-list-of-ham-radio-iphone-apps/

We wrapped up another 2-day Technician License Class today. The original class roster was 24 but we had a number of people drop out due to a variety of issues (illness, unexpected family activities, etc.). Today, 16 people took the Technician Exam and 13 passed (81% success rate). We also had 2 people that already have their Tech license pass the General Exam.
The instructor team is Stu W0STU, Paul AA0K, Joyce K0JWW and me. We continue to be quite pleased with the 2-day format as a good balance between getting the student to pass the exam and equipping them with enough knowledge to get started in the hobby. We continue to tweak the course content but the general approach remains the same.
The next class is scheduled for October 15 and 22.
73, Bob K0NR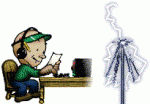 First, I need to admit that I am an HF slacker. My first love in ham radio has always been VHF and higher and I have always treated HF as something secondary. I am not sure why but if I figure it out, I will let you know.
Lately, my HF antenna (a powerful device that I refer to as The Dipole) has been laying on the ground. It seems the support rope broke months ago and I never found a reason to put the antenna back up. Like I said, I am an HF slacker.
Here's my idea of having fun on HF: fire up my Yaesu FT-847, belching a mighty 100 Watts into some kind of simple antenna. Get on 20 Meters SSB and higher and work DX stations all over the world. Actually, I don't like 20 Meters that much because it always seems to be filled with signals. I really, really like it when 15 Meters opens up because the band is big enough to allow lots of signals without that bloated feeling.
This is exactly what happened last weekend for the CQ WPX Contest. I was only able to operate about 4 hours, with the goal of having fun and working some DX. The propagation on 20 Meters and higher was excellent! It's amazing what a few sunspots can do for propagation. The contest format is pretty cool, too, as everyone works everyone but with an emphasis on picking up callsign prefixes and countries. I made 100 QSOs, mostly on 15 Meters, with all continents and many different countries. That was a blast.
After I loaded my log into Logbook of the World, I got the instant gratification of seeing 27 of those QSOs confirmed this week. Not a bad percentage…with the emphasis on confirmed this week. I am really liking this.
The HF bands are back!
73, Bob K0NR