Archive for August, 2010
Amateur Radio Technician License Class
Monument, Colorado
Saturday Oct 16 and Saturday Oct 23 (8 AM to 5 PM)
Location: Tri-Lakes Monument Fire Station 1
Sponsored by the Tri-Lakes Monument Fire Radio Association
The Technician license is your gateway to the world-wide excitement of Amateur Radio …
Earn your ham radio Technician class radio privileges
Pass your FCC amateur radio license exam right in class on the second day
Multiple-choice exam, No Morse Code Required
Live equipment demonstrations
Learn to operate on the ham bands, 10 Meters and higher
Learn to use the many VHF/UHF FM repeaters in Colorado
Find out how to participate in emergency communications
There is no cost for the class (donations accepted)
However, students must have the required study guide:
Gordon West Technician Class guide, 7th Edition $20.95
And pay the FCC Exam Fee: $15.00
Advance registration is required (no later than Oct 10th, earlier is better!)
To register for the class, contact: Bob Witte KØNR
For more information on amateur (ham) radio visit www.arrl.org or www.wedothat-radio.org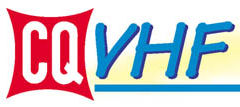 CQ COMMUNICATIONS, INC. PRESS RELEASE. Richard Moseson, W2VU, Editorial Director, sent out the following dated Tuesday, August 10th:
"CQ VHF Magazine Launches Streamlined Website — Continuing its company-wide update of its magazine websites, CQ Communications, Inc. today announced the launch of a new and easier-to-navigate website for CQ VHF magazine. Like the recently updated sites for WorldRadio Online and Popular Communications, the new CQ VHF site features a cleaner look and a streamlined user interface to make it quicker and easier for visitors to find what they are looking for. The CQ VHF update coincides with posting of the highlights for the Summer 2010 issue.
Current issue highlights include sample pages in full-color layout, to give prospective readers the ability to see what the magazine itself looks like in print. Highlights of previous issues reaching back to 2006 are available on the website with easier access than in the past. One new feature is a 'Current Events' page, which provides readers with access to information on upcoming events and activities that is more up-to-date than possible with a quarterly publication.
The site also includes links to clubs, ham radio reference sites, contact information for editors and columnists, direct links to advertisers' websites and to other CQ Communications publications. In addition, a link to the magazine's Facebook page makes it simple for readers to provide feedback and connect with other hobbyists.
CQ VHF is a quarterly magazine devoted to 'Ham Radio Above 50 MHz.' First published in 1996, it combines articles designed for newcomers with historical and technical features best appreciated by more experienced VHF operators. It is edited by Joe Lynch, N6CL, who is also the long-time 'VHF-Plus' editor of parent magazine CQ Amateur Radio.
CQ VHF is published by CQ Communications, Inc., which also publishes CQ Amateur Radio, Popular Communications and WorldRadio Online magazines. The new CQ VHF website may be accessed at: <http://www.cq-vhf.com>."
Don't forget the Colorado 14er Event is next Sunday. We'll be operating K0YB from the summit of Pikes Peak. Most likely, we'll have HF, 6 Meters, 2 Meters, 70 cm and maybe some higher bands.
More information on the event here.
73, Bob K0NR