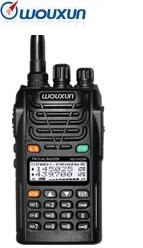 I happened to be in Hong Kong on business and wandered around the Kowloon area looking for electronic gadgets. I started noticing several different models of handheld transceivers, some of them marketed as ham radios. I counted at least 10 different brands of equipment, all made in China.
A Wouxun radio caught my eye, as I recalled some discussion about these radios being available at Dayton for a very reasonable price. I took a look at it and was pleased with the look of the radio. The price was right, too…less than $100 US.
This Wouxun KG-UVD1P is a very capable dualband 146 MHz/ 446 MHz radio. The whole idea of such a low cost radio had me hooked…I basically wanted to know if the radio was any good….so I bought one. (I have to confess that I forgot to negotiate a lower price which is common in these Hong Kong shops.)
I took the radio home and have been playing with it. So far, I am very impressed. I'd like to find some time to check out the performance with my test equipment, but that will have to wait. I've also noticed that there are some reviews and mentions of this rig on the internet: eham.net, W2LJ,  Wouxun web site and hamradioshop.it .   The N9EWO has quite a bit of detailed information about the radio on his website. He points out that this radio is not really a full dualband transceiver…the VHF and UHF receiver share some circuitry such that you can't actually receive two signals simultaneously.
So here come the Chinese radios. Not a big surprise as many low cost electronic devices are manufactured in China. However, the Big Three (Yaesu, Kenwood and Icom) are Japanese companies and as far as I can tell have kept most of their manufacturing in Japan.
Amateur radio transceivers are a mature technology, so expect to see more of these Chinese radios showing up in the US.
Your Mileage May Vary, All Disclaimers Apply.
– 73, Bob K0NR
Update 10 July 2010 : there is a Yahoo group for discussing the wouxun radios.
Update 18 July 2010: Wouxun US website: http://www.wouxun.us/