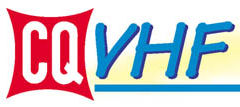 You just have to love VHF contesting….hours of boredom punctuated by the excitement of band openings. Unlike HF contests, you never really know what you are going to get in terms of propagation.
So it was with the CQ Worldwide VHF Contest this weekend. It started out really slow on Saturday. I mean really, really, really slow. There were not many local stations on the air, so it was tough sledding on both 2 Meters and 6 Meters. (Yes, the CQ WW VHF Test is two bands only: 2 Meters and 6 Meters…and those are my favorite bands to work anyway.)
Then later in the afternoon, I hear Louisiana stations coming in on 6 Meters. Then the magic sporadic-e clouds shift and I am working the east coast, all the way up into the New England states. Later the propagation shifts to the midwest and it was Wisconsin, Michigan, Indiana, Iowa and Kansas. I was working them as fast as I could and had quite a pileup into DM78 Colorado. The band stayed open till about 9 PM local…just when I thought it was done, another station would come booming in.
Sunday started out slow but during the morning I worked the Pacific northwest on 50 MHz, including several contacts into Canada. This opening was not as strong, but it kept me busy until the afternoon. Then it was picking up everyone I could on 2 Meters. Again, local participation was surprisingly light…not sure what's up with that.
Band  Mode  QSOs   Pts  Grd
50     CW     1      1    1
50    USB   259    259  112
144    CW     1      2    1
144   USB    14     28    7
Total Both  275    290  121
Score : 35,090
All in all, a great time was had by me.
73, Bob K0NR