Archive for March, 2010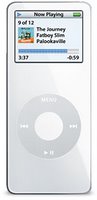 I've posted before about being a fan of podcasts (those mp3 file "radio shows" that don't use radio). There are so many decent podcasts out there to choose from, I keep my iPod Touch loaded up with all kinds of mp3 content. Actually, my taste includes topics outside of tech, but that is what I'll focus on for this blog posting.
One thing I have noticed is that the ham radio podcasts on my mp3 player are getting pushed aside by other tech shows. I think it is driven by the signal-to-noise ratio of the 'cast. With so many to choose from, I have become less tolerant of rambling commentary, crappy audio and marginal content.
I don't want to be overly critical, since it takes real work to produce a quality podcast. I have enough trouble keeping up with this blog. I would not be able to do a decent job of an audio podcast and you probably don't want to hear my voice anyway. (I have a radio face and a CW voice.)
So what am I still listening to these days? Here's my favorite tech-related podcasts, in rough order of priority:
Amateur Radio Newsline
Buzz Out Loud (CNET)
Cranky Geeks (John C. Dvorak)
This Week in Tech (Leo Laporte)
Slashdot Review (SDR News)
Tech5 (John C. Dvorak)
CNET News Daily Podcast
This Week in Amateur Radio (TWIAR.org)
PC Mag Radio
So the only remaining ham radio 'casts are Amateur Radio Newsline and TWIAR. AR Newsline is the old standby that I used to listen to on the local 2-Meter repeater, usually interesting and well done. TWIAR has some good content but it often tests my patience with drawn out introductions and weird sound effects. Keep the fast-forward button handy on that one. Slashdot Review sets the standard for "get to the point, say something interesting and move on."  We need more shows like that. CNET News does pretty well, too.
Oh, I should mention Ham Radio Podclass, which I recommend to students studying to pass their next license exam.
I'll toss in a couple of non-tech wildcards for you to consider:
WNYC's Radiolab – "Science meets culture", usually thought-provoking and well-executed
The Moth Podcast – People telling true stories without notes in front of a live audience
Common Sense with Dan Carlin – a fresh, logical approach to politics that generally annoys both Democrats and Republicans
So what are you listening to? Give me some fresh ideas.
73, Bob K0NR