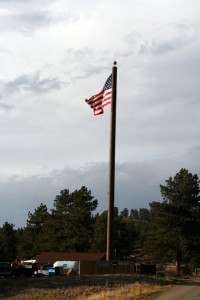 I have gotten into the habit of taking photos of interesting radio sites. This all started as part of my general tendency to visit mountain summits to play ham radio. It turns out that for some reason, there are quite a few radio installations in high spots. Hmmm, imagine that.
So I started taking photos of the more interesting ones. One thing lead to another and I now have a photo collection of lots of different towers, antennas and radio sites. Fortunately, my spouse thinks this behavior is cute…other people find it a bit crazy.
So I am driving west on Highway 24 and I see this really big flag pole at Lake George, CO. It just doesn't look quite right— a bit too fat. I drive closer to get a better look and, sure enough, it is really a cell site with an antenna disguised as a flag pole. (This is at the US Forest Service work camp. )
Clever design, I think.
73, Bob K0NR