Archive for May, 2009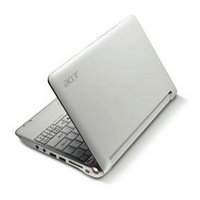 I've posted a few items about the Acer Aspire One netbook (with SDD and Linux) which have generated some positive comments. See Sweet Little Acer Aspire One PC, More on Netbooks,  and My Tweaks to the Aspire One Netbook.  One thing I've noticed is that the Thunderbird email client has a nasty habit of losing a critical file and tossing out all of the email messages. Because of this, I've taken a bit more care to backup the email messages and address book (which you should be doing anyway).
Here's the simple procedure I use to back up the critical folders on the Aspire One onto a USB thumb drive.
Exit all applications

Insert a USB flash drive into one of the USB ports (File Manager should automatically open. If not, open up File Manager manually.)

Click View and select Show Hidden Files. Some of the files we want to copy are hidden, so this let's us see them.

Select My Disk (over on the left side of File Manager). Then drag the .thunderbird folder over to the USB drive, which will copy the files onto the USB drive. This may take several minutes depending on how many files you have.

Also drag the .mozilla folder over to the USB drive, copying the Firefox bookmarks and other settings

You can copy any other folders that you want to back up

Click the eject drive icon on the right side of the USB drive indicator (left side of File Manager). This closes down the USB drive and prepares it to be removed.
If you ever experience a loss of email information, simply insert the USB drive and drag the .thunderbird folder back onto the Aspire's main drive (My Disk).
Remember, you don't have that much SSD drive space on the Linux Aspire, so be sure to delete unneeded email messages and other files.
73, Bob K0NR

Things have gotten quite busy at work, which is why I haven't posted anything recently. The spare time I have has gone towards getting ready for Hamcon Colorado, as I have signed up to do two presentations and a few other tasks. Here's some items that are worth mentioning that spewed out of the internet.
I haven't seen the new Star Trek movie yet but Saturday Night Live did a skit relating to it. Also, the classic Shatner "Get a Life" skit is out on youtube. Both of these can be viewed here.
Speaking of youtube, the Society for Geek Advancement (huh?) has a video that features all of your favorite geek celebrities. Is "Geek Celebrities" an oxymoron?
The FCC posted some recent enforcement letters concerning amateur radio cases. Go Laura Smith! Included in this list is a nastygram to the idiots at Xcel Energy which is having trouble tracking down power line noise problems in Northglenn, Colorado. As the ARRL section Technical Coordinator, I had some involvement in this incident — all I will say is that it's difficult to tell whether Xcel is incompetent or just irresponsible. Hard to say.
Speaking of the FCC, they have really gotten caught with their pants down in their analysis and handling of Broadband over Powerline (BPL). Thanks to the ARRL for keeping after them and getting the suppressed FCC documents via the Freedom of Information Act. Here's a good article about it from an non-ham-radio source, ars technica.
K3NG raised the question of whether it is possible to have a useful amateur radio web site without the trolls and misfits. It seems that qrz.com is attempting to rise to the challenge. Good for them.
I stopped by the DTV.gov site that has information concerning the migration to Digital TV in the US. I was surprised to find that they added quite a bit of detail about when TV stations are switching over. Also, they have an interactive map that gives you estimated TV signal strength in dBm at an arbitrary location.  (Yes, real live technical information !)
From the Amateur Radio Fun in the Mountains Department, there is a group planning to create a packet radio link that extends the length of the Appalachian Trail (The AT Golden Packet Annual Event).  Sounds like fun to me.
73, Bob K0NR
From: Steve Williams KØSRW <k0srw@earthlink.net>
Date: Tue, May 12, 2009 at 9:48 PM
Subject: [Committee] Email for your clubs!
HamCon Colorado 2009 kicks off in just over 2 weeks, May 29-31, 2009 in stunning Estes Park, Colorado. Estes Park is the gateway to one of our nation's most treasured prizes, the incomparable Rocky Mountain
National Park.
Through May 14th, save $5 from the walk-in price!  Visit our on-line registration page at www.HamConColorado.org.  It's easy, it's fast and it's secure!  While registering, be sure to sign up for our Saturday luncheon, our Saturday evening banquet, and our Sunday morning breakfast!  All three feature great food, superb friends, and
outstanding speakers!
Registration goes up $5 on May 15th.  And, on-line registration closes altogether on May 20th at 10 PM MDT.  You can always register at the event for only $20, but we won't have any more luncheon, banquet or
breakfast seats available then.
Don't miss out, register now!
We're also pleased to announce our Grand Prize, an ICOM IC-706MKIIG with a remote kit!  If you registered before March 1st, 2009, you're in our Early Bird Prize drawing for a brand new Yaesu FT-8900 with a
remote kit!  And, we've even got a Yaesu VX-7 as our Special Bonus Prize.
You won't want to miss out on the more than 35 technical sessions covering just about every ham radio topic you can think of.  Check out the Conference Schedule page at www.HamConColorado.org for more information on these!
More prizes!  HamCon Colorado 2009 is delighted and grateful that more than 115 prizes have already been donated by a large cadre of wonderful manufacturers, vendors and organizations.  Take a look at
the Prize Donations page at www.HamConColorado.org.  Even if you've got bad luck, you're bound to see it turn for the better at HamCon Colorado!
Visit with your favorite manufacturers, stores and clubs!  They're all listed on our Exhibitors page at www.HamConColorado.org.
Need more?  Ok, stop by our Silent Auction where you'll bid against each other for great radios from Yaesu:  an FT-950, an FT-857D, a VX-7R, and two FT-2800s!  These radios are completely factory refurbished, factory packed, and factory tested.  They come complete with a 90 day factory warranty.  You've not seen auction starting prices like the ones we'll have on these beauties!  Cash and PayPal
only please!!!  This will be a lot of fun!
There's even more:  a VE Session, and a massive W1AW/Ø operation (sponsored largely by ICOM and Heil Sound) where you'll truly be on the other end of the pileups with some excellent equipment!  Try sending morse with your left foot in our hilarious QLF contest, and practice your skills in our dastardly CW Pileup contest, or our outdoor transmitter fox hunt.  If you've never been to an ARRL Wouff Hong ceremony, now is definitely the time!
There's something for everyone at HamCon Colorado 2009, and we sure hope to see you in Estes Park, May 29-31, 2009!
73,
Steve Williams, KØSRW
k0srw@earthlink.net