Archive for March, 2009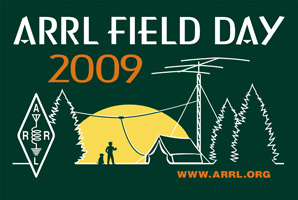 The ARRL Field Day is one of the more popular and fun ham radio events during the year. You or your club can make Field Day whatever you want: a real contest, some time out in the woods, a public service event, drinking beer with your buddies …. whatever.
Field Day this year is June 27-28.
The ARRL promotional materials for Field Day are now available on their web site.
Here is the Public Service Announcement video:
By the way, the ARRL logo for Field Day looks good. Nice work by the ARRL graphics department!
73, Bob K0NR
Added on April 12th: Noticed a good Field Day post by K3NG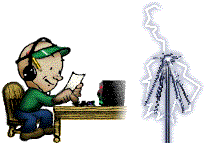 In the past few years, I have noticed that it is easy for me to miss paying my membership dues for the various amateur radio clubs I've joined. Despite the trend towards electronic mail, there is a huge pile of paper mail that ends up on our kitchen table. Somewhere in there is a little postcard or letter reminding me to pay my dues. It often gets swept into the junk mail pile and into the trash can. Worse yet, many clubs just put out the blanket message that "all dues are due" in the club newsletter or an email message.
I did a little inventory last night of my membership status with the various clubs and sure enough, I am delinquent with several of them. Some of these organizations are repeater groups that only meet once per year, so there is no natural reminder built in. It is interesting that none of the clubs have followed up with me and asked "did you really intend to drop your membership?"  Many clubs are seeing a flat to declining roster due to the demographics of the ham community, so you'd think they would focus on retention.
Based on my experience, I reached these conclusions:
With some clubs struggling, I will pay more attention to this renewal issue so that I am supporting the local ham community.
Even though I operate my own UHF repeater and tend to hang out there, I've decided to increase my support to several of the local repeater groups. I've focused on the ones that actively support ARES and RACES activities, an important part of the amateur radio service.
Radio clubs can really benefit from monitoring their rosters and being a little more assertive on retaining members. I bet they could bump their rolls by 10 to 20% with just a little follow up.
What do you think?
73, Bob K0NR

Been spending time on airplanes again. I think my business card should show my office as Seat 8C (always go for the aisle seat).
Here's a few things flying at me on the web. K3NG reports that the new FCC Chairman has a reputation for being data driven, you know, like using facts and everything. I can go for that. Here's the ARRL story on the FCC Chairman (Julius Genachowski).
In case you missed it (I did), Woz has been on Dancing with the Stars.  Woz is a cool guy, but who cares?
Fark.com had an interesting photoshop sequence that started with a guy adjusting some sort of antenna. Lots of creativity by the photoshopping readers. The poor guy is probably trying to figure out how to receive digital television.
From the Things That Really Matter Department, a big friggin' asteroid just missed hitting the earth. OK, it missed us by 49,000 miles but in cosmic terms that is half a freckle.
I just noticed this article on the ARRL web site about Laura Smith, the FCC Special Counsel for amateur radio enforcement. She says will probably get her amateur radio license someday but thinks she needs to learn Morse Code first (read the story to understand why).
Closer to home, I have been tuning up my packet radio gear which has been sitting on APRS for the past year or so. It seems the local RACES folks want to use Winlink for emergency comms but I am not sure my TNC is up to the task.
–   73, Bob K0NR