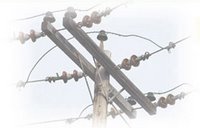 Hide the children! Broadband Over Powerline (BPL) is coming to Colorado. Xcel Energy has announced plans to make Boulder the first SmartGridCityTM in the nation. See my previous posting on BPL. The pitch from Xcel is:
The next-generation electricity grid will allow our company to better meet growing demands, address environmental challenges, maximize available resources and optimize the entire energy system. Ultimately, a "smarter" grid helps us serve our customers by creating more options for managing personal energy use, habits and cost.
BPL has caused quite a bit of concern in the amateur radio community due to its use of HF spectrum for data communications via powerline. Some BPL deployments have resulted in considerable interference to licensed amateur radio operators.
Xcel has posted quite a bit of information on their Smart Grid approach on their website. In particular, take a look at the white paper on Smart Grid technology. The good news for ham radio operators is that Xcel is using BPL technology from the Current Group. This implementation of BPL is considered "ham friendly" since there have been multiple deployments of this flavor of BPL that have resulted in no radio interference complaints from the ham community. This could be just luck, but there are technical reasons that indicate Current may have a system that doesn't interfere with most ham frequencies. The key attributes of the Current BPL system are that the Medium Voltage Lines use 30 to 50 MHz (outside the ham bands) and the Low Voltage Lines use 4 to 21 MHz notched for the ham bands using the Homeplug standard.
The Boulder Amateur Radio Club (BARC) is forming a BPL Committee to monitor the situation locally. We also have an amateur radio BPL team for the state of Colorado.
Note that Xcel is not planning to offer broadband internet service to consumers. At least, not yet. The public relations campaign from Xcel is all about Smart Grid, managing the power grid for maximum efficiency. The BPL industry has been on the Smart Grid path when it became clear that delivering broadband to consumers was going to be economically difficult. I still expect that BPL will die out over time, but it may find a niche market in Smart Grid. Maybe. Keep in mind that wireless technologies can be applied to Smart Grid applications just as well (and maybe more economically) than BPL.
The important thing is to ensure that these BPL deployments don't mess up the HF spectrum.
73, Bob K0NR