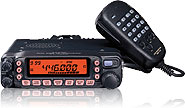 One of the local clubs recently had a heated discussion about the use of the National Simplex Calling Frequency, which is 146.52 MHz in the US (per the ARRL band plan). You have probably heard the argument before…..is the calling frequency reserved to just calling or is it OK to ragchew on that frequency?
In the Summer 2006 issue of CQ VHF, I wrote about mountaintop operating and included these thoughts on the use of 146.52:
Calling Frequency
What frequency are you going to use to call CQ from your favorite high spot? Well, the calling frequency, of course…. most likely 146.52 MHz. This usually works pretty well as many simplex-oriented operators make it a point to listen on .52. While we don't normally make long CQ calls on VHF FM, making a call such as "CQ Five Two,this is K 0 N R on Pikes Peak" is a good way to go.

One problem I've run into is when the calling frequency is tied up with lengthy contacts by other hams. If the frequency is in use, I generally just stand by and wait for them to finish. If it seems appropriate, I might break in and chat with them.

Disclaimer: It is difficult to write authoritatively in a national ham magazine about VHF issues that often tend to be regional in nature. What works in rural areas with lower population density may not apply in New York City. Ignoring that, I'll jump in with both feet (maybe with one in my mouth, who knows?)

What is the purpose of a calling frequency? Back in the old days of crystal controlled rigs it was important that we had common channels crystalled so we could talk to each other. We typically only had a dozen or so channels, so having a common calling or simplex frequency (or two) was an obvious thing to do. These days, we have synthesized 2M FM rigs that cover the entire 4 MHz band in 5 kHz steps. Now the purpose of a calling frequency is, well, for calling. You use 146.52 MHz when you want to establish contact on the band, lacking any other information. For example, if I know my buddy Steve KØSRW is going to be listening on the 146.94 MHz repeater, I'll call him there. If I know the local DX crew hangs on out 146.46 MHz, I'll make a call there. But when I don't have any other information, and I am making a call or listening for a call, I go to the calling frequency. Why? Because that's what it's for! If I am out of repeater range and I just want to talk to someone on simplex, I try the calling frequency.

The Three Minute Rule

There are two ways to make a calling frequency useless:
1. No one ever uses the calling frequency (nobody there, nobody home)
2. The calling frequency is always tied up due to lengthy contacts

So we need to encourage hams to monitor and use the calling frequency, but not monopolize it. We don't have to be extreme about it. Perhaps a "three minute" rule of thumb: if I am in a contact with another station on the calling frequency for more than 3 minutes, it is time to change to a different frequency. This opens up the frequency for other hams to use. Just as important it keeps the long ragchew sessions away from the calling frequency. These long sessions have a tendency to discourage monitoring of 146.52 MHz. One ham recently told me that he tries to keep a receiver tuned to .52 for anyone just passing through the area that might need some help. But when some of the locals get on the frequency and chat for an hour, the radio gets turned off.

There, I said it: the calling frequency is for calling, not for ragchewing.
Now you have heard my opinion, what do you think?
73, Bob K0NR