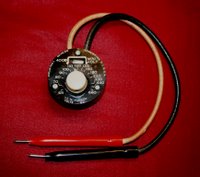 I've worked in the electronic test and measurement business for over a quarter of a century, so I have a keen interest in test equipment. My friend Steve K0SRW came across an interesting "classic" voltmeter and decided that I needed it in my collection of electronic treasures. Thanks, Steve!
This measuring device is a clever design with a neon bulb used as the voltage detector. A potentiometer varies the voltage to the neon detector, with the potentiometer knob calibrated to read out in volts. You adjust the dial until the light just turns on. This meter works for both AC and DC voltages, from a range of 65 to 660 volts. Click on the pictures to take a closer look.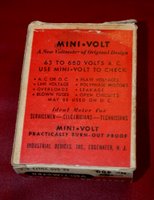 The original box came with the voltmeter and it says that it was manufactured by Industrial Devices, Inc. of Edgewater, NJ. The device is marked with US Patent Number 2,644,134, which I looked up one of the free online patent databases. The patent was applied for by Nathan Schnoll on July 20, 1949 and was issued on June 30, 1953. As expected, the circuit diagram uses the potentiometer as a simple voltage divider, varying the voltage to the neon bulb.
I've done some searching on the web but have not found anything beyond the patent document. Does anyone have any additional information on this voltmeter?
73, Bob K0NR